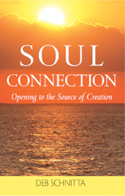 Start Your Revolutionary Journey
Soul Connection is a defining part of Human Evolution. As we each awaken deeply to our inner power we transcend all limitations.

Join us in furthering your awakening and the awakening of humanity.

As you read each page, your cells are bathed in transformative energy- transporting you to your deepest connection ever!

A sneak peak from the back cover:

We are each unlimited potential here to create.

Opening to that unlimited potential, being that unlimited potential requires the personality to be willing to be aware of its limitations as well as aware of what else is possible in any given moment. Having conscious connection with the Soul supports the personality easily opening to these gifts.

The Soul is the body of consciousness that returns to earth life to grow and explore and to be of service. The Spirit is the spark of light that fuels the Soul, that provides the Soul with a geographic alignment to the Divine. When Soul and Spirit connect there is direct knowing of God, there is the awareness of unlimited potential from within.

Soul Connection: Opening to the Source of Creation offers the reader the necessary knowledge about the Soul so that the mind may open to this vast resource. As this knowledge is enhanced, the reader is transported to direct access to the Soul itself- as deep a connection as you desire.

Each time you immerse yourself in the energy of these pages, you are awakening your conscious connection to the largeness that is you, your Soul. As you awaken in this way, you are different. You see the world with new eyes, and find the connection with your purpose, your deepest calling.

Being present, connected in this rich and meaningful way is the greatest gift you can offer yourself, the greatest gift you can add to an evolving and awakening consciousness of humanity.

Soul Connection allows you to step away from what no longer serves you and open to a life of joy, abundance, and purpose, free from suffering and limitation.

Order Soul Connection Now >>>

Explore Spiritual Enlightenment >>>
Read Articles About The Soul >>>