Ryan
"Ryan was so excited for school. When he came home on Monday he was laying in his bed resting (God forbid he would actually sleep!) and he would sign Ryan and school and he would just start giggling. He did this several times. He was so proud of himself! He did really well too." -- SK, PA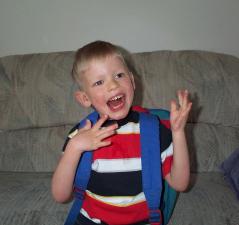 Meeting Ryan
As an illustration of evolution, I share these snapshots of a beautiful little boy named Ryan. Born with CMV, a virus commonly found in individuals and often undetected, he suffered a fair amount of brain damage.

I first had the pleasure of meeting Ryan and his mom when he was three. He was quiet and somewhat withdrawn, seeming to pull into an inner world that was less confusing than ours. He would often appear at these times as if he was spacing out or did not understand what was unfolding around him.

He had difficulty eating and swallowing, could not move his left leg well and had decreased strength and coordination in his left arm. He did not speak and seemed to have a delay in understanding what was spoken to him. He was inconsistent in his ability to reply to communication or request for commands.

At our first meeting, I was drawn in to his world through the images he showed me in his mind. Since I am clairvoyant, it was easy for us to converse in this way. He would show me what was wrong, a pain in his arm, the frustration of not being able to speak. I would say this out loud and his eyes would glimmer and sometimes be followed by a smile. Slowly we began to build a bridge, he and I, to link both worlds together as one.

Desires to Learn and Grow
Early on I became aware of his comfort in his world. Although to the mind this may seem strange, a young boy not able to participate in the fun of the world does not seem comfortable to our eyes. However, the world viewed from his perspective made sense in another way. Here was a child, a wise sentient being, a Soul that had needs and desires to learn and grow, just like all Souls. He had picked a situation and members such as his family that would further that growth and learning. I watched his hunger to be loved at the cost of all other things. And I watched in awe as his mom repeatedly fed that need, tirelessly and from the capacity of her huge heart. In silence I marveled as a healer does when given the inside glimpse of something so precious. How wise and committed these Souls, to support one another in this way.

Establishing Goals
At our initial interview, his mom identified her goals for Ryan to be a functioning member of society with full healing. She recognized this might be a long shot but murmured, If I don't dream it can't happen. Almost instantly, I became aware of the discrepancy.

This Soul named Ryan was comfortable with what he had created. He became angry at me, striking out and pushing me away at times as we tried together to "get him better." As I spoke out loud the language for his frustration, he nodded in agreement.

His mom agreed his choices could be his, despite her dreams and hopes for him. He learned he could still be loved even if he was not dependent for all things.

My heart grew in its capacity to witness love and understanding. It marveled in watching the evolution of them both.

Change Begins to Unfold
Ryan began to engage. He started to take great joy in being able to get his body to move, to follow commands and to connect with the outside world. His eating changed. No longer a battle he actually enjoyed eating and showed a preference for favorite foods. He became increasingly interested in being able to do things his older brother could do. He started to make sounds and become consistent in responding to yes and no questions.

And then this little boy, who first presented as one who might need help throughout his entire life for all the simple things we take for granted began to let us know how smart he truly was.

He began to follow along in a picture book, matching objects that make sound to tell a story. It was a simple task that tired him quickly, but one that opened many doors. Each week he gained in his ability to pay attention longer, to remember faster and to giggle in delight! He began to play at the computer like his siblings could. It was harder for him of course, but this life that had started as one of dependency began to grow more and more in the direction of autonomy.

Evolution had continued.

Results
Ryan is ready for school now. As I share some of his story he is beginning the process of more fully integrating his worlds, that which is inner with the larger outer of friends and challenges and opportunities, a foray outside the nest of his loving family as the next playground for his evolution.

Each of us has our places where we are like Ryan, where it is easiest to stay a certain way, even if we are not happy, even if we desire more in some way. It takes courage and wisdom to make these changes, and each and every day, we, like Ryan, face the obstacles that are ours and choose whether to engage.

In Each of Us
Evolution takes us to our truest essence and brings to us what we need to truly persevere, to learn and to grow. In this way, our greatest challenges become our deepest joys.